Android | iOS GPS Tracker
How to begin using Mobile GPS tracker?
Create GPSWOX.COM account and sign in.
Download Mobile GPS Tracker app from Google Play
Open application on your Android device and sign in with the same credentials(this is required only once, unless you change your password).
Add your device to your GPSWOX.COM account by clicking "Add device". Enter your device "Name" and "Device identifier" visible in the app (not imei number):
Make sure GPS and Internet connection is activated on your smartphone
Click "Start" in Mobile GPS Tracker application
Please wait for the device to get a satellite fix
After some time (few minutes) you will see location of your Android device
To increase battery life, set the tracking interval to at least 180 seconds.
FAQ:
Q: What will happen if I change server in the app from Europe to USA, Asia or any other ?
A: Then you need to login to the same server and add your device there(servers in the app and sign in screen must match):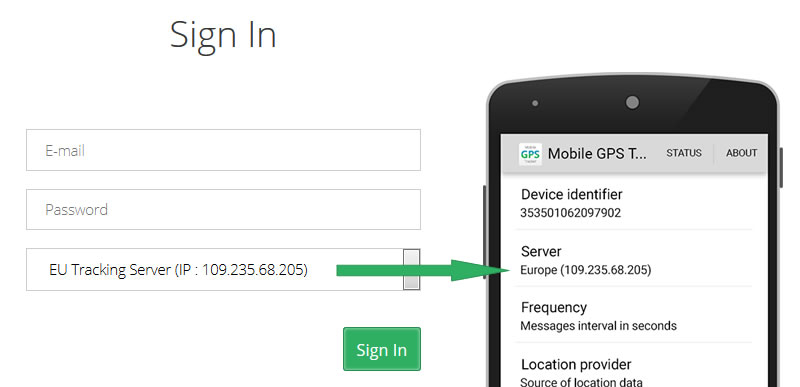 Q: How to connect this app to my cloud gps server or server gps software ?
A: First of all you, make sure you are signed in via mobile app(you need to sign in with any gpswox.com account). Then click "Server"->Custom and enter your custom server's IP address. Then add "Device identifier" in your private gps server. Click start and you will see your smartphone on your own gps server.