The Sharing tool is used to create a shareable link to track GPS objects without having to login to the web platform.
To access the Sharing tool menu, navigate to Tools -> Sharing.

Once opened, you will be greeted with the following menu: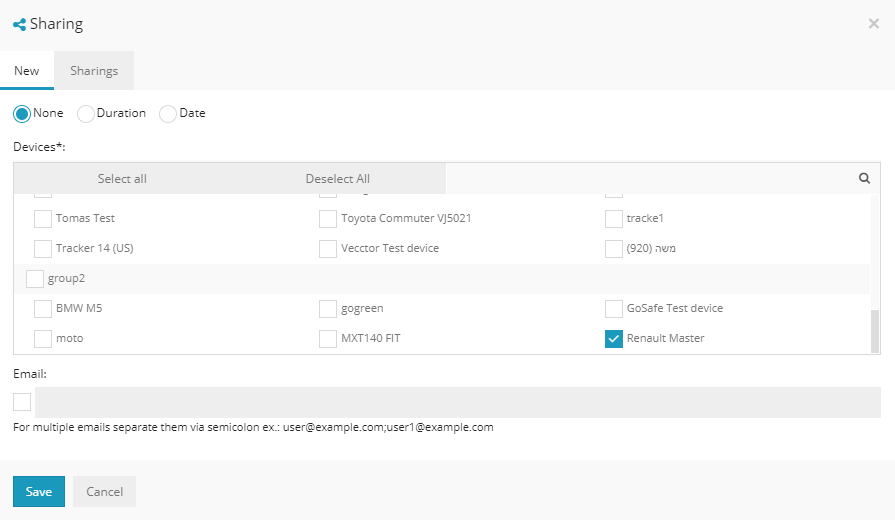 To created a shareable link, select the devices from the list that you'd like to be displayed in the map for others to see.
There are 3 options for durations:
None
- The link will last indefinetaly until it is deleted.
Duration
- The link will be accessible for a specific duration, which is up to 180 minutes.
Date
- A specific date can be set until the sharing link will expire.
Delete after expiration - this option is available when an expiration time/date is set for the link to delete it once it is expired.
Below the devices, there is an option to enter an email(s) to send a link as soon as it is created.
To view, edit and delete the created sharing links, navigate to "Sharings" from the top of the menu.


GPS tracking business was started in 2011. Around 3000 devices now. Looking forward to have a professional and updated platform with good features to be able to continue in the market due to high competition.

I glad to worked with your company ... the software great and stable, with a little some problems happening sometimes, I'm sure your company doing well for the best.

We bought the software in the beginning of this year (2017) and start selling in March. It is easy to use. Use to setup by us or the costumer. User friendly.

24/7 Support and because the public imagae is more professional compared to other providers. So far it's been good.

GPSWOX has a good base functionality, which we can develop further to our specific needs. It also covers the initial starting point we required from multiple end with regards to app support, branding, multi-language, multi-device. GPSWOX also gives us security in term of long term customizations and regular updates, as well as the ability to provide basic driving quality reports, without obviously forgetting the value for money.

I started on the tracking business on Aug 2010. And found GPSWOX was my best option when they started business. I started with 40 units on GPSWOX tracking platform and now I track more than 1000 objects. After several years on using different tracking platforms I found the best way to do great business. and get the best support than any other platform. Very satisfied to work with GPSWOX.

High level of service and features offered, independency in terms of used features, realisation L/T, support and of course reasonable cost. As of today I have no claims or negative feedback. Beginning was a bit slower but our specification was not perfect too, after some clarification the level of service is pretty good – we are happy.

50 to start and now we'are increasing that number with GPSWOX. The ability to intgerate their system, with ours easily, as well as the mobile app integrations.

It is really fast and efficient. Its interface is clean and intuitive.

Beginning we had 10-20 now we have over 500+ units. GPSWOX has just been amazing all around from (pricing, interface, performance, learning curve)