Object popup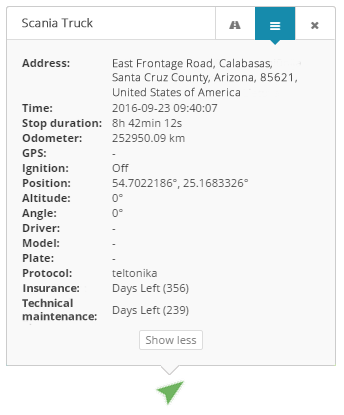 In the minimized popup window you can monitor basic information and sensors. Once you click "Show more", you will see all available information for this device including sensors, services, additional data. If you want ot check what parameters your device is sending, please visit sensor management section.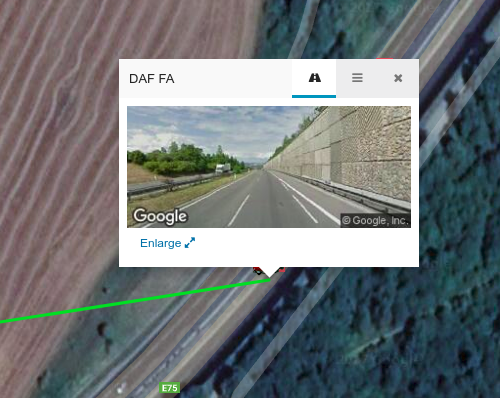 It is also possible to use "street preview" while monitoring your device. This window will refresh automatically once your device is moving, so you can "street preview" in real time.
Object quick tools

Show history - this will instantly show history of the object for most common selected period.
Follow - new window will appear where you will be able to monitor each object individually, you can open multiple windows at the same time.
Send command - quick access to send command to the device via gprs or sms.
Edit - edit device name, imei, accuracy, change icon, add services and more.
Edit - Main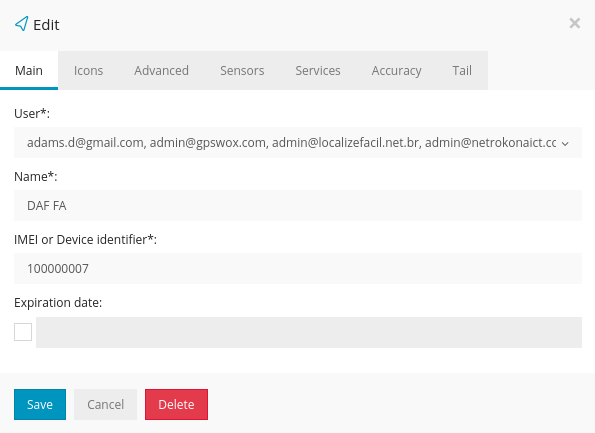 To add device all is required is name and device imei or identifier. You can edit name and imei naytime.
Edit - Icons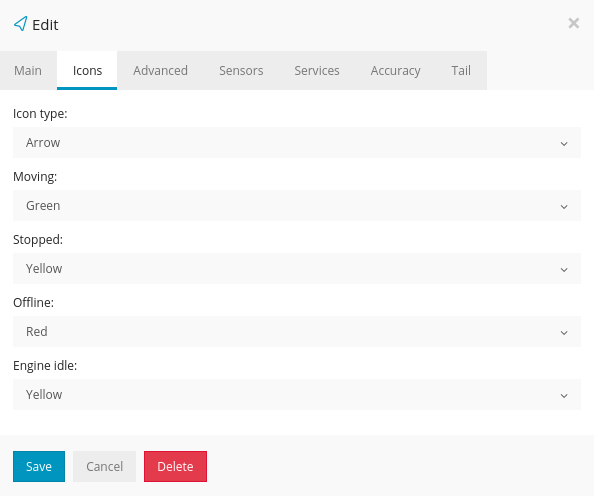 Icon type:
Arrow - arrow with direction and color(green, yellow, red) will be shown. This is default and recommended selection as it gives you the most control and information.
Rotating icon - vehicle icon visible from the top will be show, it will rotate according to the direction.
Icon - simple icon will be shown without direction and status.
Icon type - Arrow. There are 4 states:
Moving - when device speed is higher than minimum speed defined in edit->accuracy->min. moving speed
Stopped -when device speed is lower than minimum speed defined in edit->accuracy->min. moving speed
Offline - if device is not sending information to the server 5 or more minnutes or is disconnected from the gps server
Engine idle - for engine idle to be active, you need to add sensor for ignition on/off or engine on/off and then add that sensors in edit->accuracy->engine hours(switch from gps). Engine idle means that ignition/engine is on but device is not moving.
Edit - Advanced
In advanced section you can fill in optional information, assign device to the group(to create new group please go to Setup->Groups->Add).
Show GPRS Tempaltes commands only - if you tick it, then only custom gprs commands will be showed for your device in Tools->Send command. GPRS templates can be created in Setup->GPRS Tempaltes
Fuel measurement - if you do not have fuel sensors connected to your gps device, you can input measurements here so they will corespond in history and reports.
Forward - Platform will copy and send raw device data to given IP and port in UDP or TCP connection.
Time adjustment - this will manually adjust time individually for selected gps device. Used only in those cases, when you are unable to set timezone to UTC 0 for your device.
Edit - Sensors
Please check sensor managment page for detailed documentation.
Edit - Services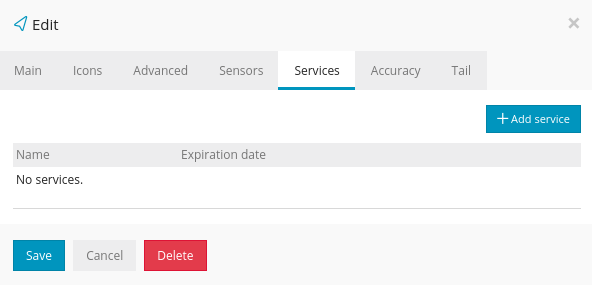 Services are used to monitor insurance, technical maintenance, oil change, car parts deprecation, etc.
Edit - Accuracy
Engine hours - default selection is GPS, but if you have ignition or engine sensor connected to your gps tracker it is highly recommended to select it here. Once selected, if ignition is off you will not see unecessary history(like drifting), engine hours, distance, events like geofence or overspeed will not be triggered, therefore you will get the most accurate information including reports.
Min. moving speed - if speed is below min. speed, moving will not be registered.
Min. fuel difference to detect fuel fillings - if sensor value increases instantly by 10 units or more, fuel filling will be detected.
Min. fuel difference to detect fuel thefts - if sensor value decreases instantly by 10 units or more, fuel theft will be detected.
​To prevent the platform from registering false movement when staying at one location and GPS points are not accurate "Min. Moving speed' value should be increased. Additionaly if device has an ignition sensor - adding it will stop platform registering location points when object ignition is off.
Edit - Tail
Tail color - select color of the object tail
Tail length - how long is the tail

GPS tracking business was started in 2011. Around 3000 devices now. Looking forward to have a professional and updated platform with good features to be able to continue in the market due to high competition.

I glad to worked with your company ... the software great and stable, with a little some problems happening sometimes, I'm sure your company doing well for the best.

We bought the software in the beginning of this year (2017) and start selling in March. It is easy to use. Use to setup by us or the costumer. User friendly.

24/7 Support and because the public imagae is more professional compared to other providers. So far it's been good.

GPSWOX has a good base functionality, which we can develop further to our specific needs. It also covers the initial starting point we required from multiple end with regards to app support, branding, multi-language, multi-device. GPSWOX also gives us security in term of long term customizations and regular updates, as well as the ability to provide basic driving quality reports, without obviously forgetting the value for money.

I started on the tracking business on Aug 2010. And found GPSWOX was my best option when they started business. I started with 40 units on GPSWOX tracking platform and now I track more than 1000 objects. After several years on using different tracking platforms I found the best way to do great business. and get the best support than any other platform. Very satisfied to work with GPSWOX.

High level of service and features offered, independency in terms of used features, realisation L/T, support and of course reasonable cost. As of today I have no claims or negative feedback. Beginning was a bit slower but our specification was not perfect too, after some clarification the level of service is pretty good – we are happy.

50 to start and now we'are increasing that number with GPSWOX. The ability to intgerate their system, with ours easily, as well as the mobile app integrations.

It is really fast and efficient. Its interface is clean and intuitive.

Beginning we had 10-20 now we have over 500+ units. GPSWOX has just been amazing all around from (pricing, interface, performance, learning curve)