Contact us
NOTE: We will do our best to answer your query instantly or in a couple of hours.
In some cases due to high volume of requests it will take longer, but no longer than 1 working day. Thank you for your patience
GPSWOX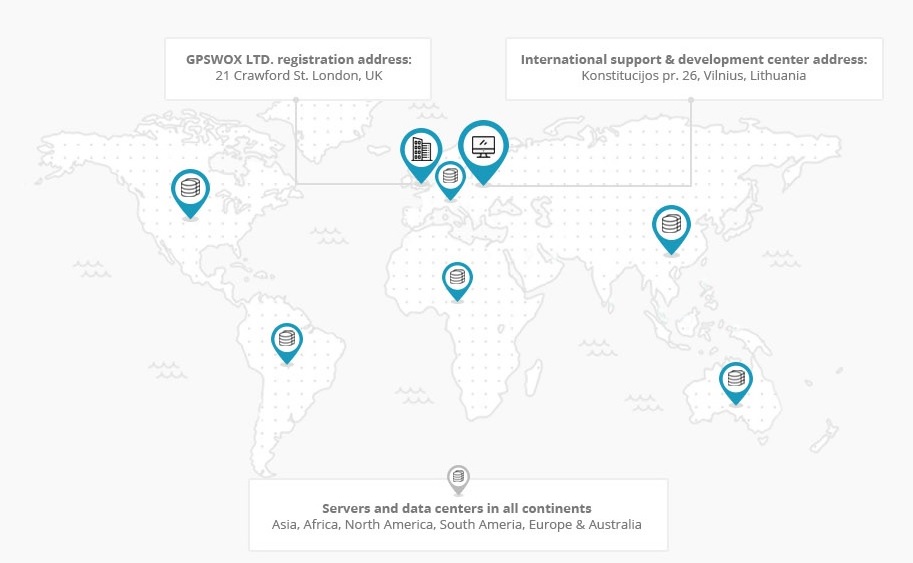 GPSWOX LTD. registration address:
21 Crawford St. London, UK. Street View
International support & development center address:
Konstitucijos pr. 26, Vilnius, Lithuania. Street View
Servers and data centers in all continents
Asia, Africa, North America, South America, Europe & Australia
Reviews
Customer Reviews
We have been using GPSWOX for almost a year now to run our tracking business. All out clients are very happy with the platform and it's going very well!
"Our company has more than 50 vehicles. With gpswox server we can control fleet's costs and access detailed reports easily. I personally recommend this gps tracking system for all organizations."
"We could not run our logistics business the way we do it now, without such a powerful fleet management sofware as GPSWOX. A+++ software!"
"I would like to personally extend my gratitude towards the people working with the system support, by email. They helped me pick out the best GPS devices and configure them with the server."
"The registration was quick, to add gps trackers was simple. Now I can track my car, bicycle and children in one place on my pc or mobile. "
"I have worked with different GPS tracking servers before… and I was pleasantly surprised with the functionality of the GPSWOX system. The controls and the simplicity exceeded my expectations."
"Since we started using this GPS server our productivity has increased significantly and most importantly we were able to decrease fuel costs."
"This app is perfect for tracking your fleet!! I love it, simple, lot of feature, bug free + a developer who help you with fast response!! Simply love it thanks you!! "
"Gps Wox is a very professional gps server. With Gps Wox we control our whole fleet and save money everyday. Thanks!"
"It is one of the few systems available on the market today that has all the required tools. With the system I can track fuel consumption, traveled distance reports and so on."
"We hadn't figured out yet how much gpswox system saves us money and time. But it seems working great."
"I track my person vehicle, the system itself, is very easy to use and reliable. (and all these for the reasonable price)"
"The Mini GPS tracker helped me find my lost pet. I have the Mini GPS attached to his collar and I am relieved knowing that he will never get lost."
"Here I was able to purchase GPS trackers which I could not find elsewhere. One of them was an OBD GPS tracker which I was able to easily connect to the car and the GPS system."
"On this website I found detailed and easy to read documentations. Configuration and connection was an easy task and took little time to complete.

I was able to use my GPS trackers without any inconveniences. Cheers"
"I have a certified GPSWOX tracker and I use it in my car. I am able to easily monitor my travel reports and fuel consumption with the option of protecting my car from theft. Furthermore, the product is not expensive. I cannot imagine a car without this device and I plan to use it in my future cars."
"I tried the iPhone application. I had no issues installing it, using it and tracking objects. The reliability really helps out while traveling."