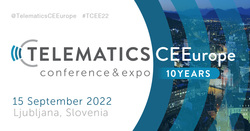 TelematicsCEEurope
Date: September 15, 2022
Location: Ljubljana, Slovenia
The GPSWOX team is excited to attend the TelematicsCEEurope conference that will be held in Ljubljana, Slovenia on September 15, 2022.
The TelematicsCEEurope conference brings together industry leaders in telematics solutions, software and hardware manufacturers, content providers, operators, logistics and transport companies, OEM, and much more.
This popular conference allows attendees to meet experts face-to-face so that they can get industry-leading information, including the latest news and technology. Attendees will also be able to not only hear from professionals in their field and expand their knowledge, but also exchange best practices and have their ideas discussed with others.
The TelematicsCEEurope conference will show more than 20 exhibitors that will eagerly discuss the latest industry developments and provide resources and recommendations for further learning.
Lastly, attendees will be able to meet and mingle with their peers at many networking opportunities, allowing them to build strong connections for future skills development and business opportunities.