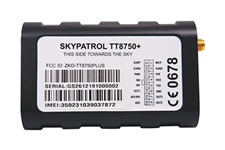 Skypatrol TT8750+
IP : 138.201.205.20 (Europe)
IP : 107.170.92.234 (USA)
IP : 209.58.168.101 (Asia)
Port: 6021
Additional information
Skypatrol protocol requires mask to decode data. If your device doesn't send it, it's possible to specify it in Setup->Tracking ports->Skypatrol->Edit. On the left side type in "mask" and on the right side – key.
Mask should be decimal number.
AT+CGDCONT=1,"IP","<apn>"
AT$CGPCO=1,"<apnUser>,<apnPass>",0
AT$TTARG=2
AT$TTSRVDST=1,1,"<109.235.68.205>",6021,2
AT$TTMSGMASK=1,225181695
AT$TTWAKEUP=1,1
AT&W
AT$RESET
Please note, that <apn>,<apnUser> and <apnPass> are APN parameters of your local GSM carrier.
Specifications
| Content | Specification |
| --- | --- |
| Dimensions | 80mm x 50mm x 26mm |
| Weight | 89g |
| Network | GSM/GPRS |
| Band | 850/900/1800/1900 MHz |
| GPS chip | Sirf III |
| GPS sensitivity | -159dBm |
| Battery | 3.7V 250mAh Li-ion battery |