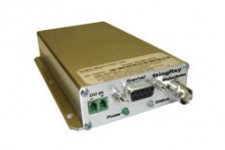 Raveon series
IP : 138.201.205.20 (Europe)
IP : 107.170.92.234 (USA)
IP : 209.58.168.101 (Asia)
Port: 6117
Protocol: raveon
Additional information
The Raveon model M7 GX transponder is a rugged high-speed UHF (450-480MHz) GPS transponder with a built-in 12-channel GPS receiver. It has up to 5 watts of RF power output, and operates as both a GPS transponder for tracking, and a radio modem for sending and receiving data.
The M7 GX automatically reports its status and position are user-configurable intervals and events. With an ultra-fast PLL and protocol, hundreds of M7 GX transponders in the same location can all report, with no interference or loss of data.
A GPS tracking system built with M7 GX transceivers, can track up to 20 radios with one-second updates, 200 with 10-second update, or 2000 with a 100-second update rate.. The M7 is the fastest most efficient UHF AVL radio available.
Specifications
General features:
Transmissions include ID, position, speed, heading, voltage, temperature, input/output status, UTC time, and proximity.
Ultra-fast 3mS TX-RX switching and 4-level GFSK modem allows truly "Real Time" tracking and status.
Outputs and accepts NMEA 0183 GLL, TLL, WPT, GSV, and PRAVE messages.
High-speed over the air data rates. 19200bps in 25kHz channel, 9600bps in 12.5kHz
Built-in TDMA channel access allowing truly real-time tracking (200 transmission in 10 seconds)
Very low current draw. As low as 25mA average
16 bit addressing for up to 65,525 different unique IDs per channel.
Programmable proximity alert ( 1-9999 meters) and programmable position report rate (1-9999 seconds).