The Top 6 Verizon Connect Alternatives Available on the Market In 2020
Telematics today have come a long way since the dawn of the dot com era. The GPS tracking industry as a whole is huge, and today the technology the industry purveys is in nearly every IoT device imaginable; from cell phones to wearable devices, from compact cars to entire fleets of commercial vehicles.
Over the past 5 years, the industry has seen an unprecedented surge in the amount of assets that are currently being tracked by GPS technology.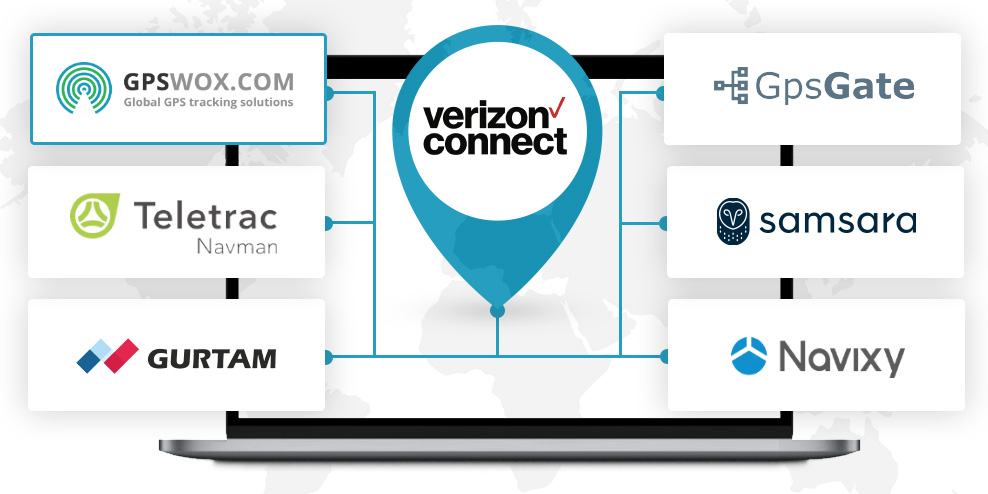 This isn't surprising, considering that market adoption and cost per tracked unit hold an inverse relationship to one another. In other words, when demand for GPS tracking hardware and software goes up, the price per tracked unit will normally go down, creating a snowball type of effect that is unlikely to slow down any time soon.
This market adoption and price per unit cost relationship is well known and can be seen in other industries as well, not just in telematics. This trend is based mainly on the fact that there are more suppliers and resources that are dedicated to helping track assets worldwide. Simply put, data is very cheap today because there's lots of it.
Of course you probably already knew that, given that you're smart and you're doing the necessary research to find Verizon Connect GPS tracking alternatives available on the market today.
This is why this article will focus primarily on the various alternatives that are available for purchase, and will provide for a clever analysis that will contain an overview of each company as well as some of the quirks and features that their fleet tracking products, namely software, have to offer.
You'll be taking a look at some of the industry leading GPS tracking software platforms that include GPSWOX, Samsara, Navixy, Wialon-Gurtam, GpsGate, and Teletrac Navman.
What is telematics?
Before you take a deeper dive into the matter at hand though, you first need to understand a little bit more about what telematics is all about, what state the industry is in today, and where it's likely to be headed.
While the word may sound like something from a few decades ago, telematics is just a fancy word that refers to a broad domain that mainly represents the wireless technology that powers GPS tracking equipment.
Today there are over 190 companies in the US alone that deal specifically with GPS tracking software and hardware. According to a recent market report released by IBIS World in 2019, the 190 companies did a combined $4 billion in total sales in one year. Annual year-over-year growth is averaging to be 2.7% between 2014 and 2019.
These companies employ over 15,000 employees and with sales and representatives located across all 7 continents.
The telematics industry helps individuals and companies both track and safeguard their mobile or stationary assets.
For example, small, medium, and large companies alike use GPS trackers to help their managers oversee entire large fleets of trucks. Jewelry manufacturers may use personal GPS trackers to track their salesman who carry an assortment of expensive jewelry.
Farms use ID tags that double as GPS trackers affixed to the ears of their cattle to help keep tabs on what their livestock is doing and where they are located at any given time.
The fact of the matter is that there are an innumerable amount of uses for GPS trackers today, and how you apply the technology to your daily, personal or business needs is really only limited by your imagination.
Going forward, it's highly likely that GPS tracking will be even more pervasive than it is today, and whether it be in the form of new hardware or software features, companies will continue adding additional features to their preexisting equipment.
The benefits of using GPS tracking software
There are a lot of benefits associated with tracking your mobile or stationary assets. When you or your organization decide to make the most out of your GPS tracking equipment, you'll be harnessing the tracking and computing prowess that was available only to the military just a few decades ago.
If you need to track personnel or hard goods, then you'll be delighted to know that many of today's most up-to-date trackers have theft prevention capabilities that sound an alarm if the person or object in question leaves a certain predefined area.
If you're a parole officer for example and are strictly tracking personnel, then you'd want to get tamper proof on-person trackers. Such trackers have proximity alarms, and you can view personnel telemetry data live from almost any device; including smartphones, tablets, and your laptop.
If you're a fleet manager and you're not using all of the features that GPS tracking software has to offer, then you're missing out big time.
With GPS trackers installed on board fleet vehicles, fleet managers can optimize their transportation and delivery routes which give way to astounding savings that help increase the company's bottom-line.
Companies can use GPS tracking software to help reduce fuel costs. They can also monitor their driver's driving habits, and can provide recommendations on how to drive more carefully.
Verizon Connect
Verizon connect is by far one of the largest industry leaders when it comes to fleet management, GPS tracking software. Verizon Connect GPS tracking software allows you to track vehicles working actively in the field, helps improve fleet operations, and encourages safer driving.
They have helped companies like Bill Howe, a plumbing, heating and air conditioning company reduce their accident rate by as much as 87%. They have also helped Lamar increase their driver productivity by 15%, and Paul Davis saw a 40% reduction in their insurance premiums.
Verizon Connect may be an industry leader in the telematics industry when it comes to the US market, but the company still has a few shortcomings. For example, Verizon wants their customers to sign-up for a lengthy contract term, which is fine, but what if in a few months of use you want to switch GPS tracking providers? You'll likely be stuck having to pay a pricey contract termination fee, much like if you were to cancel your monthly phone plan subscription with them.
While Verizon Connect may be one of the largest industry leaders in the GPS tracking and telematics industry, what you're really here for is to find out about great alternatives that are also available on the market that rival Verizon Connect and that have similar if not better GPS tracking features and capabilities.
Read on to learn more about the great Verizon Connect alternatives the GPS tracking market has to offer.
1 GPSWOX
Headquartered in London, UK and having offices in over 4 different continents, GPSWOX has become a market leader in the telematics and GPS tracking software industry as an innovator, producer, and distributor of industry leading GPS tracking software. The company's tracking expertise spans many industries and business sectors, and it currently has more than 100,000 users all around the world.
Because of their dedication to their customers and their focus on delivering the best GPS tracking software available on the market today, GPSWOX has acquired a number of awards from FinancesOnline, a website that reviews best-in-class B2B SaaS solutions.
For example in 2018, FinancesOnline awarded GPSWOX their prestigious Expert's Choice award. That same year, they also received the Supreme Software award for offering the highest level of customer service that has ever been made available in the GPS tracking software industry.
GPSWOX places a tremendous amount of emphasis on system interoperability as their platform works on any modern smartphone and laptop alike. This is good news if you have legacy GPS trackers since you won't have to upgrade your hardware.
GPSWOX is a great alternative to Verizon Connect, especially if you don't want to be locked into a lengthy contract term. This is especially true seeing as GPSWOX provides the lowest price on the market – clients can track 1-100 objects for just $99/month, or get a lifetime license and track an unlimited number of objects for only $2,440 (no hidden fees or contracts).
2 Samsara
Samsara's mission statement is simple - they want to increase the efficiency, safety, and sustainability of the operations that power the US economy. Samsara was founded in 2015 by the co-founders of Meraki in San Francisco.
While they are a relatively new company, they have already proven themselves to be a reliable and prudent supplier of GPS tracking software. In just over 4 years, Samsara has been able to acquire over 10,000 customers worldwide, and now employ a staff of over 1,300 employees.
Samsara is special in that their platform uses cutting-edge artificial intelligence to help fleet managers pick up on driver patterns that they otherwise would have missed if they only used their naked eye.
Samsara is great for companies who really want to make the most out of their cutting-edge GPS tracking software.
3 Navixy
Originally starting out as a satellite internet reseller, in 2004 the company decided to pivot and gave birth to what we now know of as Navixy. After over 15 years since Navixy launched, the global company still stays true to their roots with their commitment to hometown, family values.
Today the company operates in over 130 countries, powers over 1,100 devices, and tracks over 500,000 mobile assets.
One of the great things that makes Navixy truly unique is that they have a large community and an online knowledge base of guides and manuals that help any new customer get started with absolute ease.
Navixy is great for companies who are new to the GPS tracking industry, as well as those who have existing tracked assets and are simply seeking to migrate to a new GPS tracking provider.
4 Wialon-Gurtam
Gurtam has over 15 years of experience in the telematics and GPS asset tracking industry. Today they have over 230 team members, 1,600 partners, their software is deployed in over 130 countries.
Gurtam is compatible with over 500 of today's most popularly used, off-the-shelf GPS trackers and dashcams.
One of the most unique features of Gurtam is that they work a lot with agricultural businesses. If your company is in the agriculture business, then you can't go wrong by switching your GPS tracking solution to Gurtam.
5 GpsGate
GpsGate is headquartered in Stockholm, Sweden and has real-time tracking and alerts that can be dispatched viz a viz their proprietary tracking software. Their system is entirely scalable and has built-in fall back redundancies that help businesses minimize their tracking system downtime.
GpsGate allows users to fully customize their preferences, set up custom workspaces, set roles, user permissions, add plugins, and so much more.
GpsGate also provides all the standardized reporting tools you'll ever need from a data-driven GPS tracking solution. You are also welcome to print unlimited custom reports using their user-friendly reporting tools.
If you're a computer programmer, then you'll immediately fall in love with the API connectivity options that GpsGate has to offer. By using GpsGate APIs, you can route report data directly to any of your other internal or external business systems.
With GpsGate you can even start your very own GPS tracking business. GpsGate provides white-label software with best-in-class customer support and training. Your new business can then resell GpsGate software under a new brand label at a markup price to businesses who are in need of tracking and safeguarding their valued assets.
6 Teletrac Navman
Under the strong leadership of current president Jens Meggers, California based Teletrac Navman has been able to garner ground-breaking accomplishments in the telematics industry.
Teletrac Navman allows your business to simplify its on-road operations and their fleet management system allows you to track and manage all of your assets from one clean and organized dashboard.
Additionally, your company can also improve on maximizing its equipment throughput and lifespan. With Teletrac Navman you can improve the way you manage your off-road heavy construction equipment. You can keep a close eye on engine hours, stay on top of maintenance, and maximize overall usage for better productivity.
Teletrac Navman is the perfect mobile asset management system that is sure to revolutionize your business
---
Bottom line
So there you have it, an in-depth overview of the best Verizon Connect GPS tracking alternatives that include GPSWOX, Samsara, Navixy, Wailon-Gurtam, GpsGate, and Teletrac Navman.
Each of these companies do in fact have their own unique quirks and features, and the only way to really tell which one is right for your company is by getting in touch with one of their company representatives and chatting with them about your asset tracking and management needs.