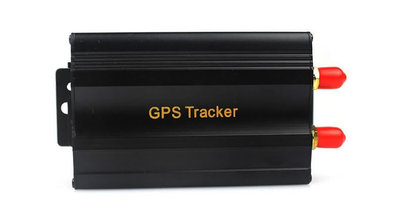 Coban 103 vehicle GPS tracker review
Coban 103 GPS Tracker Overview
The Coban 103 is a complete vehicle tracking system with a host of additional features and accessories. This tracker is best suited for tracking vehicles with a constant power source and for long term use. It also includes other powerful anti-theft features which can help secure either a personal vehicle or an entire fleet of vehicles which may be prone to theft and abuse.
What's Included
The box includes the actual tracking device, a starter-kill relay, external microphone (for audio surveillance) external antennas (both GPS and cellular) as well as a user manual and setup instructions.
How Coban 103 Car Tracker Works
The Coban 103 is a hard-wired device that connects to a vehicles electrical system in order to obtain power. Once connected, there is no need to service the device or change out any batteries at all. It also includes a relay which you can use the trackers output signal to trigger. This relay can perform several tasks depending on how it is wired, with one of the most practical configurations being a starter-kill for if the vehicle is ever stolen and needs to be disabled. This relay could also be used to unlock the vehicle remotely in case the keys get locked inside by accident. Once the device is wired up correctly and configured, you can start tracking it online, or by text message with a series of commands relating to the functions you'd like it to perform.
Additional Coban 103 Vehicle Tracker Features
As mentioned earlier, the starter-kill relay is an important feature to have on any GPS tracking device as it allows for the vehicle to be remotely disabled in the event of a theft. Some other noteworthy features for the Coban103 are the remote audio surveillance and the SOS alarm. These have a multitude of uses for security purposes and also for ensuring a drivers safety.
Final Thoughts about Coban 103
The Coban103 is a great GPS tracker that can do as little or as much as you'd like it to. It's great for knowing the current location as well as historic locations of your vehicle(s) as far as basic tracking goes, but it also can give much more detailed reports as to how the vehicle was being driven, what kind of fuel consumption it was achieving and more! It also is great for those looking to secure their vehicles and prevent theft. And in the event that the vehicle does get stolen, you are able to track it down and disable the starting system using the included relay which ensures that your vehicle won't go very far. Overall this is a great device for individuals looking for added security as well as businesses looking to keep an eye on their vehicle fleet and reduce risks.