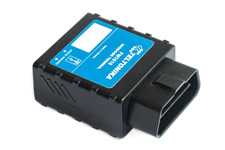 Teltonika FM1000
IP : 138.201.205.20 (Europe)
IP : 107.170.92.234 (USA)
IP : 209.58.168.101 (Asia)
Port: 6027
Additional information
Please check manufacturers manual how to send data to GPSWOX servers.
Automatic configuration by smartphone >>
FM10XX Configurator v0.0.3.12 >>
FM10XX Configurator v1.00.06.12 >>
FM10XX Configurator v1.00.08.03 >>
​​Buy Teltonika GPS tracker >>
I/O Tags and values:
io20 or io182 - Horizontal Dilution of Precision (hdop)
io21 - GSM 0-5, values: 0,1,2,3,4,5
io22 - Position Dilution of Precision (pdop)
io66 - external power, if power is below 1000 it means that OBD is disconnected
io67 - internal power
io68 - tachometer RPM
io76 - fuel counter
io80 - engine ON/OFF, values: 1,0
io145-154 - CAN specific data
io199 - speed
io240 - GPRS enabled/disabled, values: 1,0
Specifications
Easy Plug & Play vehicle tracker
Car tracking
Configurable device behaviour

To customize the data acquire & sending for different application and GSM costs saving

Precise online tracking

Under time, distance and corner alteration

Integrated scenarios

Over speeding
Trip start and end detection

Integrated back-up battery
Remote logs reading

For remote issue solving with manufacturer

Low energy consumption in deep sleep mode
Application:
Track and trace
Road assistance
Personal car's and van tracking
Fleet management
Taxi companies
Car rental companies
GSM:
Quad-band 900/1800 MHz; 850/1900 MHz
GPRS class 10 (up to 85,6 kbps);
SMS (text/data)
Interface:
1 Digital Input Reserved for Ignition Status Monitoring (depends on vehicle type)
Accelerometer
Power supply (+10...+16) VDC
Integrated back-up battery (optional)
Internal High Gain GSM antenna
Internal High Gain GPS/GLONASS antenna
Dimensions: L(50,7mm)xW(49,6mm)xH(25mm)
2 Status LEDs
USB Port
Configuration and firmware upload (FOTA and via USB cable)
Features:
Plug and Track
Small and easy to mount case – directly to car OBDII connector
Internal GSM antenna and Internal GPS/GLONASS antenna allow mount FM1010 much easier
Real Time tracking
Smart algorithm of data acquisition (time, distance, angle, ignition and event based)
Sending acquired data via GPRS (TCP/IP and UDP/IP protocols)
Smart algorithm of GPRS connections (GPRS traffic saving)
Operating in roaming networks (preferred GSM providers list)
Events on I/O detection and sending via GPRS or SMS.
Scheduled 24 coordinates SMS sending when GPRS not available
5 geofence zones (rectangular or circle)

Auto Geofencing crested for car towing detection and car theft prevention

Deep Sleep mode (less than 2 mA power consumption)
FOTA (firmware updating via GPRS)
3 operational modes (Home, Roaming, Unknown) based on operator
Integrated scenarios:

Over speeding to secure driver and prevent penalties
Trip start and end detection

FM1010 supports a remote logs reading

FM1010 supports remote diagnostic logs functionality using GPRS. Possible issues resolving becomes faster . Manufacturer can read logs remotely using SMS/GPRS to diagnose the FM1010 and timely respond to the fault.