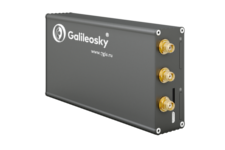 GalileoSky 4.0
IP : 138.201.205.20 (Europe)
IP : 107.170.92.234 (USA)
IP : 209.58.168.101 (Asia)
Port: 6034
Additional information
Please check manufacturers manual how to send data to GPSWOX servers.
Specifications
Galileosky V 4.0
Reliable terminal with a function of data transmission via Iridium satellite communication.
In addition to the traditional GSM-modem, the device is equipped with IRIDIUM satellite unit that allows you to transmit coordinates even without cellular network. It also provides the most accurate data about the object location.
Main opportunities
Iridium satellite communication
RS485
RS232
CAN
1-Wire
6 inputs/4 outputs
2 SIM-cards
Internal memory with 450 000 points
External microSD card up to 32 Gb
Up to 16 digital fuel level sensors
Voice communication
Remote configuring
Technical specifications
| | |
| --- | --- |
| Iridium satellite unit | • |
| Modem | GSM 900/1800 |
| Types of aerials | External GLONASS/GPS, GSM |
| Data transmission channel | GPRS/SMS |
| Cold start | 25 s |
| Hot start | 1 s |
| Coordinates determination accuracy | 5 m |
| Support of 2G | • |
| Support of 3G | - |
| Internal memory capacity | 2/16 MB |
| Maximum number of points in the internal memory | 58 000 / 450 000 |
| External memory capacity | up to 32 GB |
| Number of slots for SIM-cards | 2 |
| Availability of an input for micro-SD card | • |
| Opportunity to install a SIM-chip | - |
| Interface of connection with PC | USB 2.0 |
| Digital interfaces | 1-Wire, CAN, USB 2.0, RS-485 |
| Inputs and outputs | 6 analog-discrete and pulse-frequency inputs, 4 transistor outputs, 1xRS485, 1x1-Wire |
| Opportunity to change settings via SMS | • |
| Camera | 1x RS485 |
| FLS | 16x RS485 |
| Voice communication | • |
| Opportunity to connect push-to-talk | - |
| Accelerometer | • |
| Body | metal |
| Weight | 300 g |
| Dimensions | 157 х 72 х 28 mm |
| Service life | over 10 years |
| Internal battery service life | 500 charge/discharge, maximum 2 years |
| Average consumed power | 1,5 W |
| Power supply voltage | 9-39 V |
| Operating temperature range | -40 …+ 85 С |
| Voltage range of DAI | 0-33 v |
| Maximum measured frequency of DAI | 4 khz |
| Switched output voltage | 30 V |
| Maximum output current | 80 mA |
Opportunities to connect additional devices
1-Wire
RFID readers
iButton keys DS1990, DS1982
Thermometers DS18S20 (DS1820, DS18B20) and/or
Temperature and humidity sensors DS1923
CAN
Support of CAN-bus protocol - J1939 (FMS, Scaner, User_29bit, User_11bit)
Support of CAN-bus protocol - J1979 (Scaner, User_29bit, User_11bit)
RS485
CAN-LOG
Tachograph Continental VDO (DTCO 3283, DTCO 1381) (algorithm)
Eurosens Delta
UHF RFID Reader
Tachograph SHTRIH-TahoRUS
Tachograph Mercury ТА-001
MS SENS
RFID reader Matrix 5
Digital fuel level sensor
GalileoSky camera
Dosimeter DBG-S11D
DAI
Analog-frequency fuel level sensors
Pulse flowmeters
Passengers flow registration sensors
Analog emergency button